Ongoing and upcoming events


ROGELIO SALMONA CULTURAL CENTER

Group exhibit
CALDAS DE MANIZALES (COLOMBIA)
22/09/2023 - 28/10/2023
THROUGH LIFE / a través de la Vida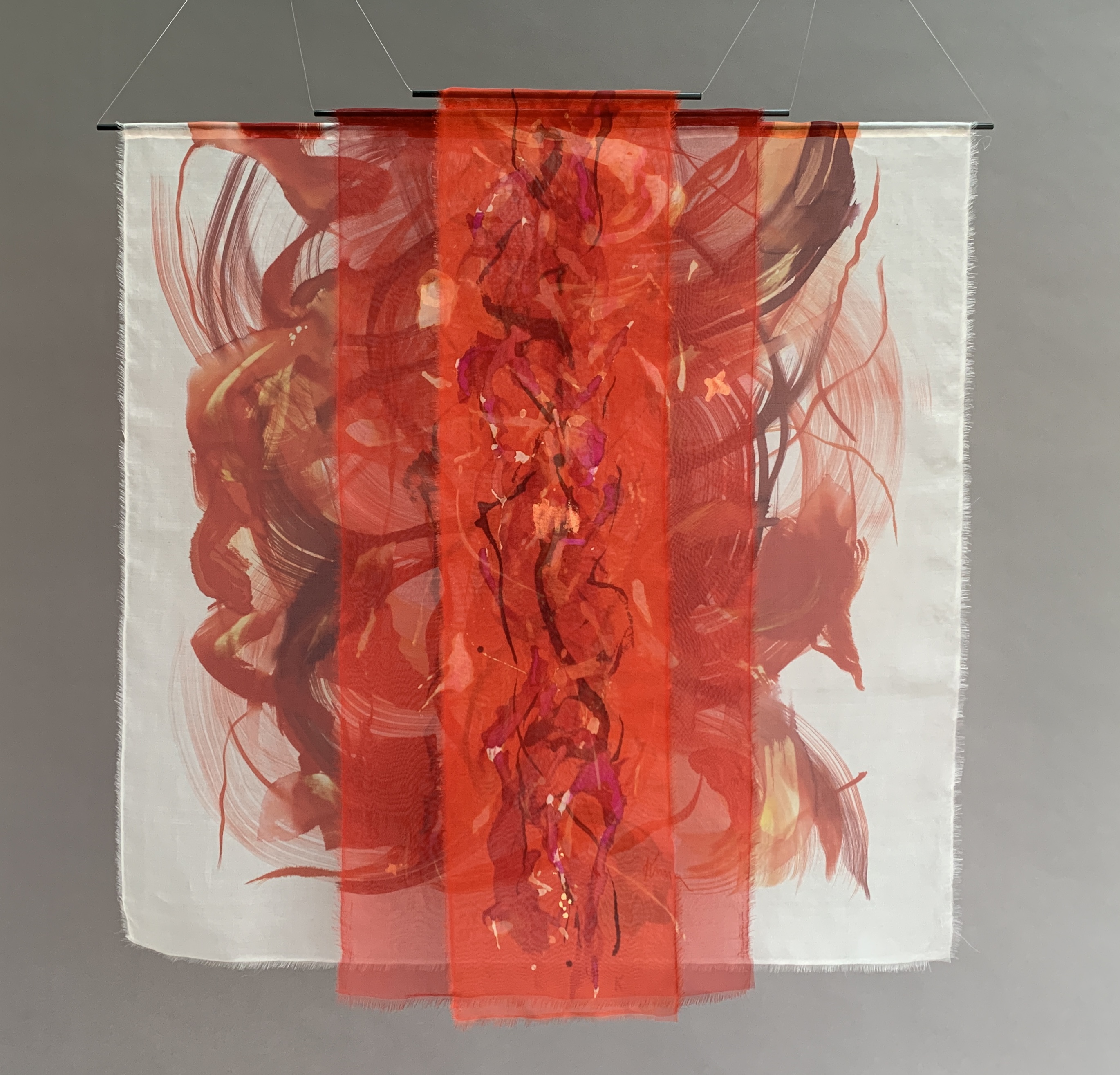 I wanted to capture in my silks the meaning and emotion of living.

Three stages, with transparencies, superimpositions of experiences and memories.

Memories, forgetfulness, wounds and epiphanies (marked with gold leaf).

Organza as a symbolic fabric that has historically accompanied us in the "rites of passage" of life."Life has created love and beauty.
Two Truths with a capital T, of the living world.
If life in its long and difficult journey has any meaning, it is the progress of love and beauty, the chill of these two truths."
(Carl Safina)
The exhibition opens on September 22 and can be seen at the Rogelio Salmona Cultural Center of Universidad de Caldas.

Curators: Yosi Anaya, Maria Ortega, Ceci Arango.
Organized by: World Textile Art.

Location: Rogelio Salmona Cultural Center of Universidad de Caldas, Caldas De Manizales (Colombia)
TEMPLE ROMÀ DE VIC

Solo exhibit
VIC
15/07/2023 - 03/09/2023
RAINING PRAYERS


I approach spirituality from Art, not from any religion.

In my opinion, Art is a PLACE.

A place where the sacred and the transcendent come together with the most intimate emotions, and materialize, through a technique, whatever it may be, painting, sculpture, ceramics, photography, etc.

RAINING PRAYERS is my interpretation of Tibetan prayer flags.

In the Tibetan prayer flags, the concepts that are symbolized or calligraphed, such as Compassion, Peace, Fluidity, Love, Harmony, Joy or Wisdom, among others, thanks to the wind that passes through them, are transformed into blessings when they come into contact with a living being.

On my flags I have also calligraphed or symbolized these wishes, scattering signs of gold or silver leaf to emphasize their sacredness.
The exhibition opens on July 15 at 12:00am and can be seen at the Temple romà de Vic.

Location: Carrer del Pare Xifré, 2, 08500 Vic, Barcelona
Direct link:

link
MUSEO NACIONAL DE ARTES DECORATIVAS

Solo exhibit
MADRID
30/03/2023 - 03/09/2023
CASSANDRA


Kima Guitart shows her silk creations in our rooms and, through them, her particular vision of the myth of Cassandra, a symbol of unheard and women made invisible.

This exhibition takes us to the creative universe of Kima Guitart. The artist, designer and artisan, after studying traditional oriental techniques of painting on silk, she was "forever trapped in her threads, so subtle and so strong at the same time".

After this training, she has developed her own language that has allowed her to "speak with her own voice", like Cassandra, a mythical character from the Iliad, and protagonist of the novel by the German writer Christa Wolf. Kima Guitart interprets this text nourished by the ideals of the third feminist wave (1970s), giving back to Cassandra her own voice that was taken from her.
The exhibition opens on March 30 and can be seen at the Museo Nacional de Artes Decorativas.

Location: C. de Montalbán, 12, 28014 Madrid
Direct link:

link
PALACIO SANTA BARBARA

Grup SACo exhibit
MADRID
09/02/2023 - 18/02/2023
RASGOS INTANGIBLES


Participo de nuevo con la asociación SACo dentro del Madrid Design Festival.

Mazda y SACo se unen de nuevo en esta edición para presentar "Rasgos intangibles".

El espacio, es un acceso a un atelier de reflexión, que trasciende la pieza física e invita a cultivar la conversación frontal con cada obra. Instalación inmersiva donde poder interactuar con el diseño y la artesanía a través de nuestros sentidos.
The exhibition opens on February 9 and can be seen at the Palacio Santa Barbara.

Location: Hortaleza 87, 28004 Madrid
Direct link:

link

(MDF);

link

(SACo)
EST_ART SPACE

Group exhibit
MADRID
05/10/2022 - 05/11/2022
X BIENAL INTERNACIONAL DE ARTE TEXTIL CONTEMPORANEO 25 AÑOS WTA


The exhibition opens on October 5 and can be seen at the Est_Art Space.

Location: C. la Granja, 4, 28108 Alcobendas, Madrid
Direct link:

link
TALLER GALERIA FORD

Solo exhibit
CADAQUES
25/06/2022 - 30/09/2022
PARAULES VELADAS



Com a artista premiada al Mini Print de l'any passat, tinc l'honor d'inaugurar 42è Mini Print internacional de Cadaqués amb la meva nova sèrie PARAULES VELADES.

Són petits "collages" de sedes cal·ligrafiats amb trossets de poemes (velats amb organça) de: Alejandra Pizarnik, M. Mercè Marçal, Emily Dickinson, Lola Irún i Laia Llobera o Idea Vilariño, entre d'altres.

The exhibition opens on June 25 at 7pm CEST and can be seen throughout the Summer at the Taller Galeria Fort.

Location: Carrer Hort d'en Sanés, 9; Cadaqués
Direct link:

link
MUSEU MOLI PAPERER DE CAPELLADES

Grup A-FAD exhibit
CAPELLADES
14/05/2022 - 31/07/2022
PLECS SUPERFICIALS - SUPERFÍCIES PLEGADES
Es proposa una exposició amb treballs creats a partir de la reflexió al voltant de les possibilitats tridimensionals conceptuals del paper com a matèria. El plegat com a acció modificadora i transformadora d'una superfície.

En aquesta ocasió hi participen fins a tretze sòcies i socis de l'entitat: Assumpció Espada, Carla Busquets, Carol Fleischman, Eulàlia Oliver, Francesca Poza, Juan Niubó, Kima Guitart, Melcior Martí, Patrícia Aguiló, Pilar Cerdà, Sama Genís, Teresa Rosa Aguayo i Vianney Méndez.

The exhibition opens on 14 May and can be seen until 31 July at the Capellades Paper Mill Museum.

Location: Carrer Pau Casals, 10; Capellades (Barcelona)

Direct link:

link
THE SIBARIST: EL INVERNADERO

Grup SACo exhibit
MADRID
11/03/2022 - 20/03/2022
MAZDA, SACO Y THE SIBARIST TE INVITAN A SU CASA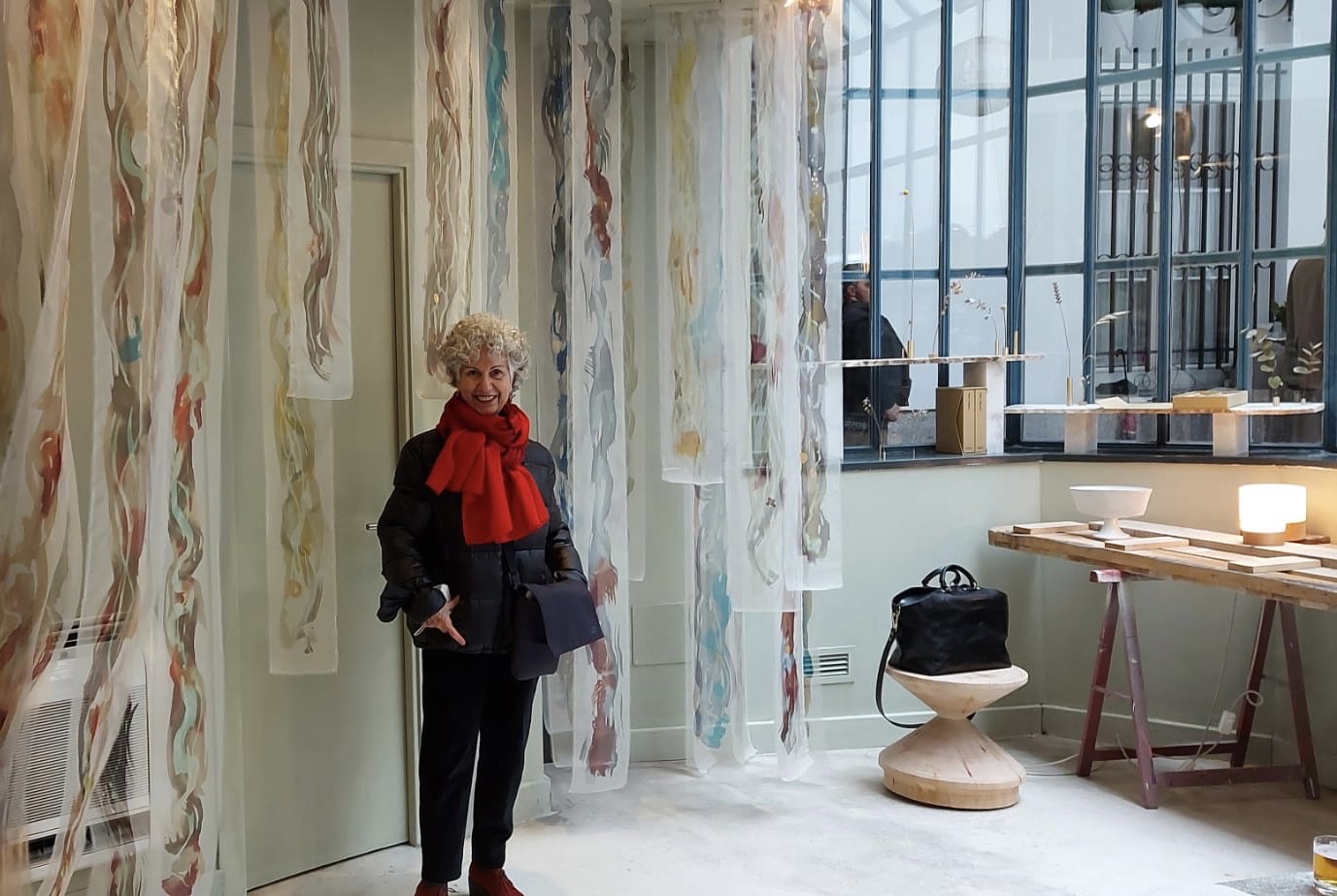 La nova proposta de Mazda, SACo i The Sibarist convida el visitant a traslladar els valors artesanals al seu dia a dia. 'Mazda, SACo i The Sibarist et conviden a casa' és un recorregut sensorial a través de l'alta artesania viscuda a la pròpia llar. El projecte, situat en un enclavament urbà únic i desenvolupat per la dissenyadora i interiorista Lorna de Santos, ens convida a conviure de manera propera i suggeridora amb l'esperit artesanal i el seu procés creatiu. Un espai centrat en el benestar de les persones, el valor del que s'ha fet a mà i el respecte per la sostenibilitat.

The exhibition opens on March 11 and can be seen until March 20 at The Sibarist: The Greenhouse.

Location: Calle de San Lorenzo 11. Local 2; Madrid

Direct link:

link
MUSEU TÈXTIL

Solo exhibit
TERRASSA
20/02/2022 - 13/04/2022
CASSANDRA
A l'exposició "CASSANDRA - La paraula com a arma de llibertat", he intentat aquest mirar amb l'ull interior que permet veure l'invisible. El que no es pot dir o és difícil de dir o jo no ser dir, es pot mostrar a través de l'art, perquè l'art permet transgredir els límits de la paraula.

En aquesta exposició, resultat de la lectura del llibre "Cassandra" de Christa Wolf, he volgut comunicar la soledat d'un personatge mític davant la mort. I també la falta de reconeixement públic del discurs femení, de les dones no escoltades, declarades boges o bruixes per dir el que ningú volia escoltar.

Hi presento, una túnica a mida del mite, sedes murals, escultures tèxtils i per primera vegada, també fotografies d'alguns fragments de les obres.

The exhibition opens on February 20 and can be seen until April 13 at the Documentation Center and Textile Museum.

Location: Carrer de Salmerón, 25; Terrassa (Barcelona)
Direct link:

link
GALERIA H20

Solo exhibit
BARCELONA
13/01/2022 - 11/02/2022
CASSANDRA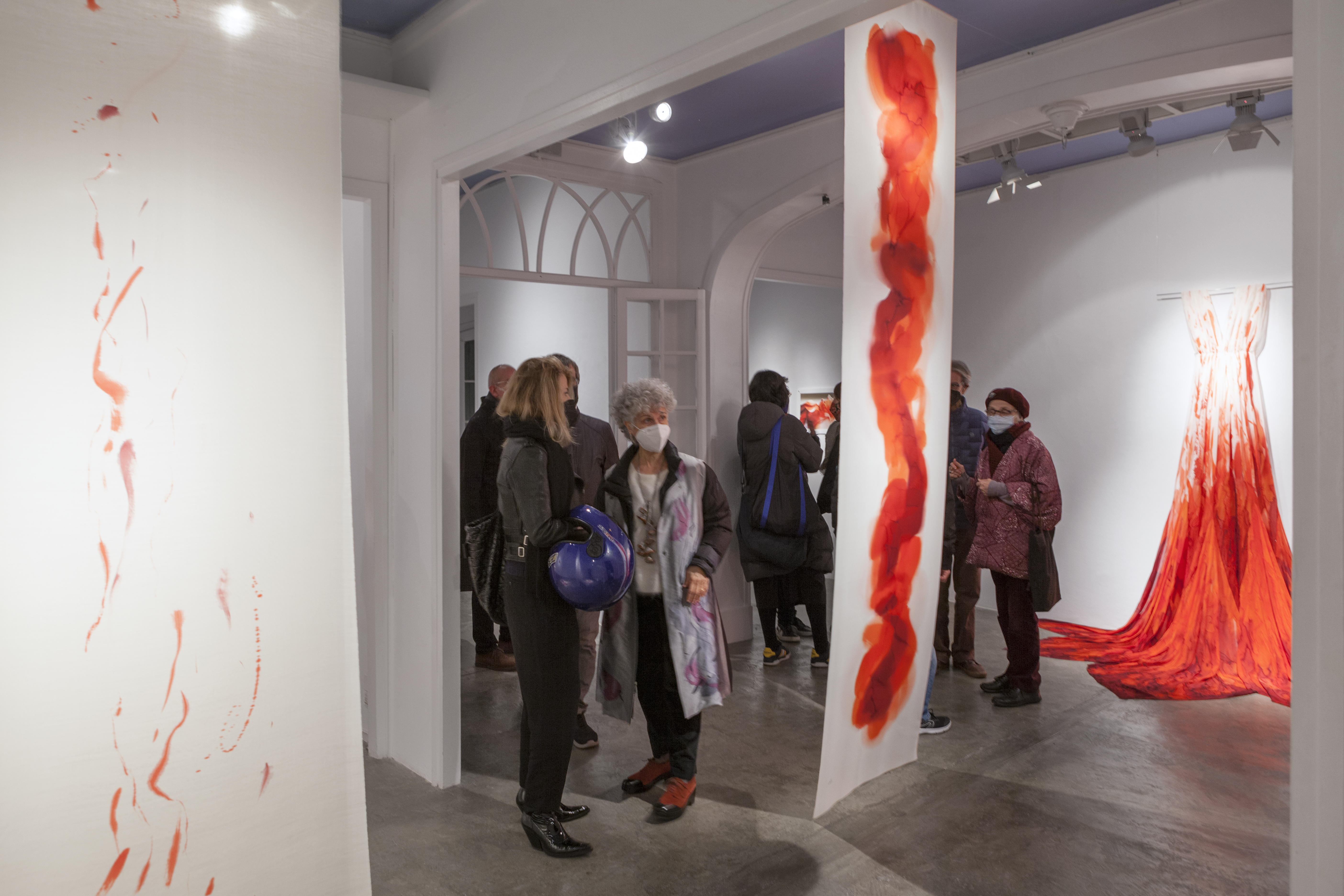 The exhibition opens on January 13 at 7pm CEST and can be seen until February 11 at the H20 Gallery.

Location: Carrer Verdi, 152; Barcelona
Direct link:

link